The Fish Gate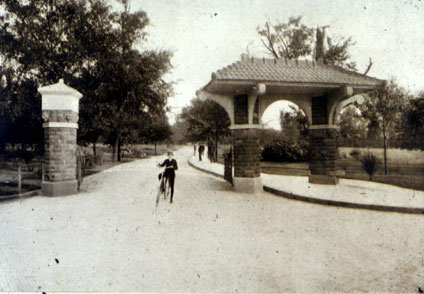 The pagoda gate at the north entrance of the park donated by William H. Fish
in 1899. – Courtesy of the Columbus Metropolitan Library
The pagoda gate at the north entrance of the park was donated by William H. Fish in 1899. William H. Fish and his father owned and operated the Fish Stone Company and the Fish Press Brick Company. They were the first U.S. manufacturers of bricks made from slate or shale. The Fish residence, built in 1890, is located across the street diagonally from the gate and was built using the same material that would later be used for the park gate.
The gate was designed by Isabell Terrell, who lived on Dennison Avenue next to the Sells Circus Mansion. Faces carved in stone near the top of the gate depict the seven ages of man from Shakespeare's play, "As You Like It," Act 2, Scene 7 soliloquy that begins with "All the world's a stage..." The eighth carving is the face of Lincoln Goodale. By invitation of the 1899 city council members, pupils attending Hubbard were in charge of the dedication ceremony. Charles Collmer, senator from New York, was the "orator of the day" and little Lucella Fish, by then in sixth grade, donated a seat to be placed near the gate.
Historic pictures of the gate show that it originally had a tile roof, which had been replaced by several layers of asphalt shingles over the years. The roof had deteriorated, leaving the wood ceiling and other elements vulnerable to decay. The Friends of Goodale Park secured funding from various public and private sources to restore the gates around the park, and work began on the Fish Gate this summer. The roof has been replaced with tiles salvaged from historic buildings. The salvaged tile already has a distinctive patina which complements the age of the structure.
Now that the work on roof is complete, contractors will soon begin stripping, repairing, and painting the wood elements of the gate. Work is scheduled to be completed this fall.

Faces are carved into the pagoda depicting the seven ages of man
from Shakespeare's play As You Like It. – Photo: Beverly Mullet Randal
The Friends of Goodale Park are the stewards of the monuments left to us by generations of philanthropic folks who have come before us. Under our non-profit 501 (c) 3 status, we are able to apply for grants and raise funds and use it the money to plan and coordinate the restoration and maintenance for these pieces of our collective history.
Further Reading
More Images
The Fish Gate before being restored.
Working on the Fish Gate.
Working on the Fish Gate.
The Fish Gate with the restoration work completed.